Evidence of working it out
Thinking about le Corbusier in Paris
originally published on In/Out of Practice on 26th February 2020





And so another year has begun. The Christmas and New Year period passed quietly and quickly, and although I took my laptop home, I was smart enough to leave it turned off for over a week, something I haven't done in a while. Sure I had work, but mainly, I think what I was most thankful for was just giving myself permission to peel my eyes away from a screen for a little while. It really did a lot of good.




I think it took a long time for me to process the happenings of 2019, and try to consolidate how I feel and my position. I by no means have suffered compared - but I think I've spent many important hours figuring out how to move forward, feel involved, stay connected but also be useful. It took many more months that I had liked at the time. Now I realise that I was rushing myself to feel okay. And I realised that while 2020 will certainly not be a restful year, it's high time I spent more time on home turf and committed myself to this space.

It's time I spent more time alone, and figure out a home practice for myself that consists of making things I love, but also not feeling guilty about it. After all, this, all of this in the end is to make myself a useful, layered person, who can offer not only knowledge and experience, but also time, patience and empathy.




That said, it was time to return to remembering what I love - so H and I planned another trip, which somehow has now by tradition exclusively revolved around design, Modernism and food/snacks (the last one we did together, not including HK, was to Amsterdam, including the Stedelijk Museum and Shröder House, I wrote about it on my old blog). This time, I spotted an exhibition on Charlotte Perriand in Paris (post to come!) and it was the perfect excuse to make a few days of it. Extra points for taking the Eurostar instead of flying, especially with my air miles last year as well as probably next year...



Immediately I booked spots to tour the le Corbusier sites in the suburb of Paris, Boulogne-Billancourt. First stop was the Studio-Apartment, after a quick stop to a really big, really great Carrefour where we realised how poor and useless our school French was at the deli counter in an attempt to buy ourselves a jambon-buerre lunch. Still, we made it in good time, and even had time to walk around the block, past the facing of the lovely building of 24 Rue Nungesser et Coli, the 7th and 8th floor of which lived le Corbusier and his wife (whose name I now know is Yvonne Gallis) from 1934-1965. Unlike the very centre of Paris, where you feel the consistency of Haussmann's mid-19th century renovation, each building in this area has it's own stylistic flair, mostly in 20th-century styles.
The massive 1972 Parc de Princes football stadium by Robert Taillibert lies opposite, in my opinion a really beautiful raw concrete structure that replaced its more open preceding design, a local feature that le Corbusier loved to watch from his studio. In other words, this suburb certainly has some charm, and I can imagine that it was an attractive place to be as an already high-flying architect who needed a little bit more room to grow.
Once through the front door, a tiny, rickety lift with one of those scissor-fold doors that you open, took us to the 6th floor, where from there we walked up another flight of stairs to the 7th. A little front door opened out into a beautifully bright, light space. Predictably with the features one knows and loves, the whole space opened out so you could see from the front to the back of the building, with a tunnel of light going through the middle as well. Two massive door-walls pivot around to close in the welcoming room in the centre, with a curling spiral staircase up to the next floor, to the right is the studio and to the left, the apartment.
We were welcomed into the studio first, now sparsely furnished but still with several major pieces of furniture. Two repurposed watchmakers drawers, which le Corbusier then used to fill with his painting materials stood in an L to one side. An impressive brick wall served as a backdrop, which we found out is a wall borrowed from the next-door building, a practice now prohibited for fire-safety. The studio section is otherwise quite nondescript, save for the panoramic view over to the stadium.
The apartment, on the other hand, is more descriptive of his taste and personality. Unlike the expected bright white, polished surfaces, his home is full of colour and textures - a sagging leather two-piece suite, named LC2, sits in an awkward corner, with small trinkets and a tiny skylight. The painted metal structures of the armchair reveal its status as a prototype, and I rather prefer the turquoise paint chipping away between the soft protrusions of the leather cushion. Photographs on the wall reveal the way this little corner had changed, moving furniture around, blocking a door, a lick of paint, a gaudy cowhide rug, a strangely idiosyncratic yet perfect positioning of a framed picture, right behind the head of someone seated on the sofa. The dining table by the window is surrounded by wicker-lined Thonet no. 209, 'noble' (as he described) but still understated. The long table highlights a little stained glass window that juts out over the balcony, another feature that was added later. Previously, the window shelf served as a spot for placing one of his many collected pieces, vases, shells, pebbles.
Knowing only about le Corbusier through his principles and his work, I was expecting another hard-line Modernist, so perfectionist and unmoving in his belief of Modern design that it would remain constant even after death. The supposed ubiquitous beauty of the Modernist is often exacerbated by how easy it is to make them look timeless, in the perfectly square frame of Instagram. But having now visited a few, and understanding my simultaneous satisfaction and criticism of Modernist men in particular, what draws me to them is the discovery of what these places meant, to the families that lived in them, how they affected way of life and point of view, and what these might say about the personality of these design greats. What context are we seeing this in now, almost 90 years after this place was built? What meaning and beauty are we looking for?
Ultimately I was shocked and pleased by how much collaboration was a part of his home (and there are the guides to thank for this - is it even worth visiting places like this without the stories and details that a guide can show you?) Lifelong friend and collaborator Charlotte Perriand designed his kitchen, as well as working together as a trio designing furniture, with le Corbusier's cousin and practice partner Pierre Jeanneret. At this point, I knew only that they worked closely, but I had not imagined that their work was so intertwined and deeply personal. Perhaps it's my own lack of knowledge to blame, or the ashamedly recent, and still limited, scholarship on the female actors in Modernist design. I would soon learn the huge influence Charlotte had on her famous peers at the exhibition, but it would need to wait for a few days as we took in these spaces. But even without that full context yet, I was grateful for the emphasis from our guide. It suddenly made le Corbusier a more dynamic designer in my mind's eye, a bit more distant from the cold ways other Modernist architects were known to have practiced (I see you, Mies, I see you, and I don't forgive you).NB:but we know it was all a ruse ahem, Chandigarh.
Charlotte's kitchen for the Corbusier apartment is pared back, warm, and allows for a flow necessary in a busy kitchen. Following the 'open' nature of the studio apartment with the large pivot doors, the kitchen also echoes this feature; Light shines from the central light shaft to the balcony; The cabinet unit opens from both sides and doubles both as a dryer and storage. In spite of this parallel, the 'upstairs-downstairs' hierarchy is maintained. Of course the kitchen is the realm of the housekeeper, and her spaces only occupy the perimeter of the light shaft. A narrow corridor takes her between the kitchen and her room without disturbing the eccentric couple, and the large clear windowpanes and glass bricks, while allowing the light in, means work is never out of her line of sight. But perhaps unlike before, where the help were to occupy the dark tunnels and basements of middling and grand households, this configuration allowed the housekeeper to at least be able to see the sky. Less than a decade after the invention of the 'Frankfurt Kitchen', an innovation by yet another female designer architect, Margarete Schütte-Lihotzky, the kitchen space was increasingly designed with care and consideration of its users. Although seemingly sparse, it nevertheless reflected and continued the design ethos of the house, even if Corbusier would unlikely ever set foot in the kitchen.
A sudden turn around the corner from the dining area brings you to the bedroom. The whole bedroom is like a surrealist painting - it's filled with elongated, shorted, rounded off, sharpened furniture, exaggerated almost to a childlike degree. A bed lifted as high as my neck sits behind the wall, lifted so that one could see the view out over the balcony. A bathtub, half the length, is squished into an opposite nook, with an egg-like shower by the bed.
A bidet casually takes up the centre of a wall, right next to a set of shelves. A modest closet doubles as a door, closing off the world, but nevertheless scars the floor with its weight. I can imagine an explosion of clothes and shoes and hats bursting out of the wooden doors, so full of material that it would take both of the couple just to get it open.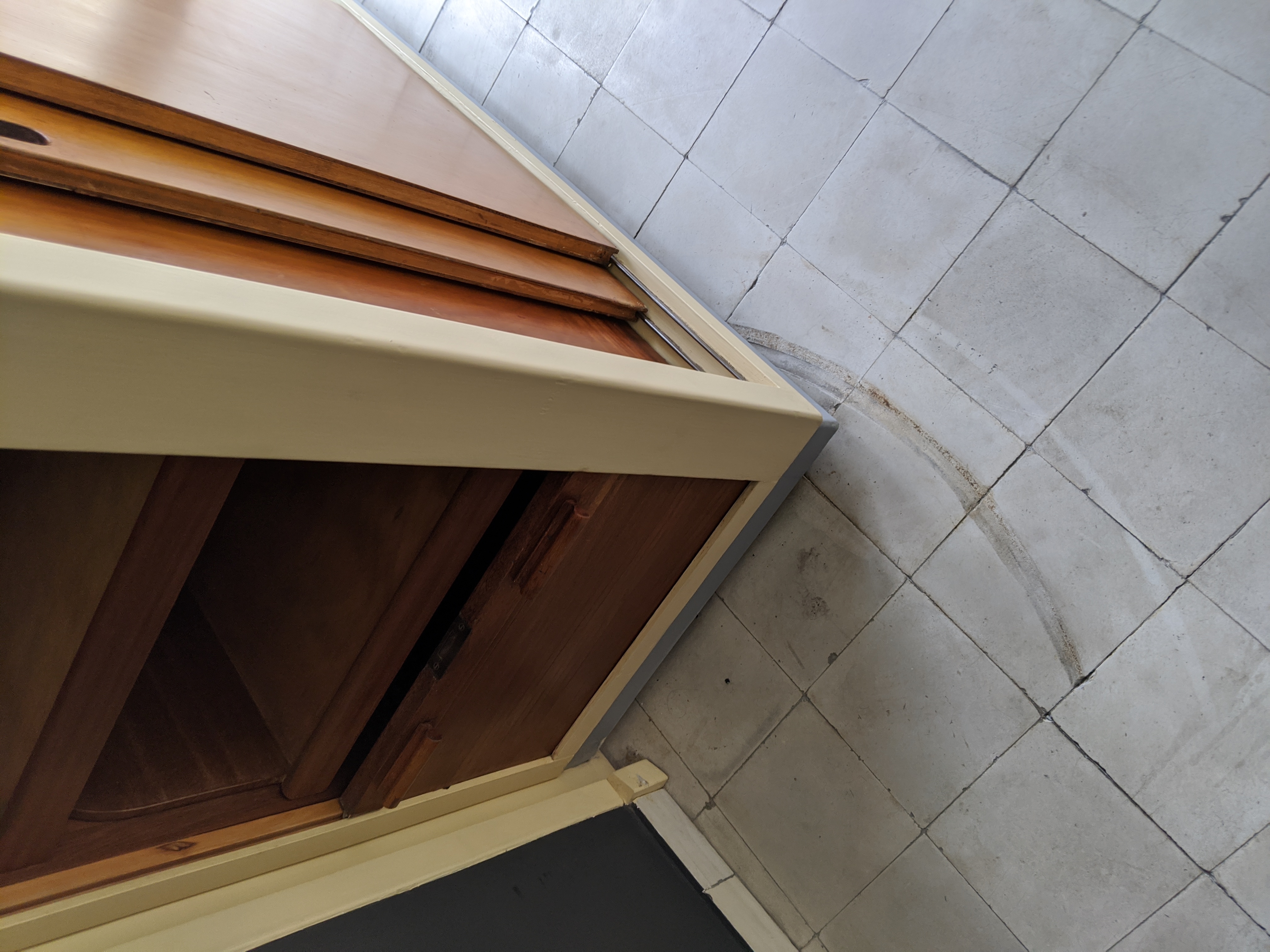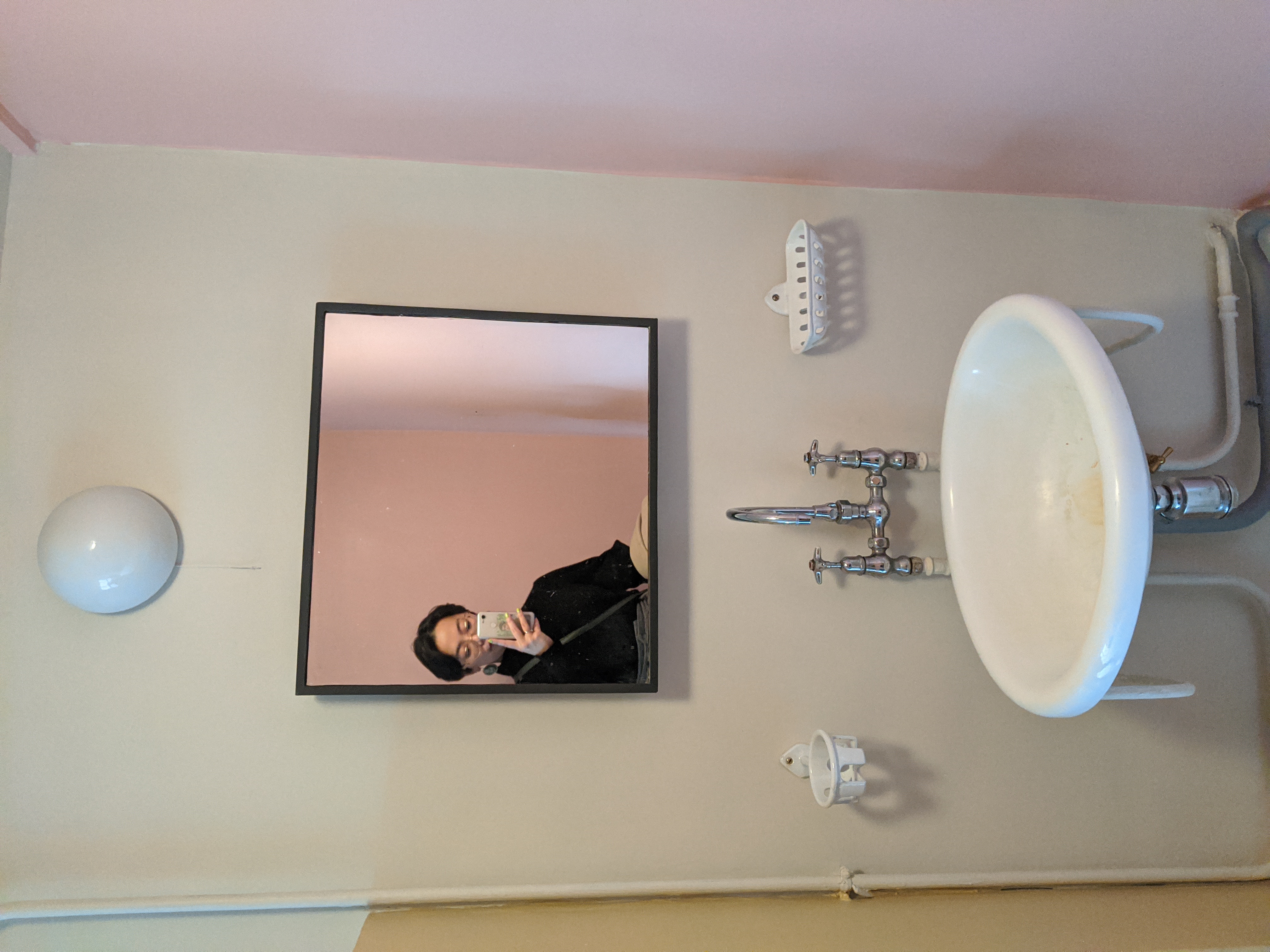 What caught me off guard was just how playful he was in his approach to design. It seems from his little experiments in his home that he was happy and willing to change or sacrifice the design 'original' in order to improve the experience, whether aesthetic or technological. Unlike some of his contemporaries, his home demonstrates an appeal for diversity, lots of things, colours and shapes to look at, touch, and move around. He doesn't express the same anxiety for consistency. All the same, his peers looked to him to advise how to achieve the desired 'Modernist' way of life - our following tour took us to the Maison la Roche, where banker, patron and friend, Raoul la Roche wrote to le Corbusier many time to ask exactly how he should decorate and use his bedroom.
Corbusier didn't seem set on the rules after he built the thing, in contrast to some other Modernist architects, who had strict guidelines beyond the completed house (Mies van der Rohe who demanded that the Tugendhat family remove and hide all the furniture and paintings that he did not design the house with whenever he visited the Tugendhat Villa). Even in his own home, rules could be broken, tinkered and embellished.